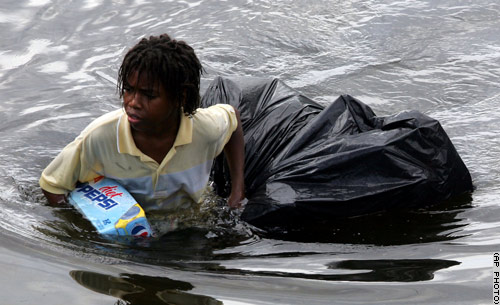 Our recent photography assignment has propelled the issue of pairing writing and photography to the forefront of  my mind. Somehow, despite the fact that I am a writing major, I have never seriously considered the role of photography as it pertains to written text. But where are we without images alongside our words? Would an expose be as effective if there weren't pictures of the starving children, or the storm survivors that are central to the piece? In my English senior seminar with Dr. Huntley, we just finished reading Jed Horne's

Breach of Faith,

a journalistic exploration of what happened in New Orleans in the wake of Hurricane Katrina.
 After reading, we viewed Spike Lee's documentary "When the Levees Broke" and have 
begun to delve into why these texts are so insightful when placed side-by-side.
In
Breach of Faith
, Horne strives to provide an objective and detailed account, including
personal accounts, meteorology, politics, and engineering, to highlight why and how the natural
disaster of a hurricane, either before it hit, while in the eye or in the aftermath, became unnatural.
Lee's documentary, while just as objective as Horne's text, seeks to achieve something vastly different.
The story of Lee's "requiem" lies in the voice and on the faces of Katrina's victims. When put together,
the viewer is given a complete pan of the disaster, how it grew to such a high caliber, and why it didn't
have to be that way. 
When comparing a written text to a piece of photography or film, I think the fundamental
question that needs to be asked is, what are the roles of investigative journalism, and documentary
film? Are their objectives that different? In the instance of these two texts, I find they share a subject
matter, but seek to effect their viewers/readers in different ways. There certain aspects of tragedy 
that are better told from the mouths and faces of the survivors, and other points that are 
explained more fully from a removed, strictly factual point of view.
Though my reading illuminated a lot of political, and socio-economic aspects of pre- and post-storm
Katrina, I preferred the connection I felt to "When the Levees Broke" due to visual stimulation. As I
watched men, women and children wade through chest-deep water, as I saw bits of the great city of
New Orleans float away, I was emotionally shaken to tears, anger, and guilt.
I realize that I am rambling, but I am just slowly learning that photography and film play a big role in the realm of writing. I am also realizing that in instances where images are unavailable or irrelevant, the written word must be strong enough to stand on its own. To create images so vivid that readers don't need a picture to imagine what the situation is like. I am looking forward to taking more photographs, letting my words tell the stories they cannot, and letting pictures bring my words to life.